Unsure which option provides the safest and cleanest drinking water? Our experts at Aquafresh explain in our latest blog.
Every home needs a constant supply of clean, safe and fresh drinking water. With so many types of products in the water appliance industry, it can be hard to know the difference between them. Which one is better to buy? Which one will provide the cleanest drinking water? In this blog, we'll explain the key differences between two popular choices: a filtered water dispenser and a water filter system.
What is a Filtered Water Dispenser?
A filtered water dispenser (otherwise known as a ceramic water cooler) is a device that sits on a sink, benchtop or desk and stores and dispenses filtered water. Although most ceramic filters will remove bugs, sediment and turbidity (cloudiness) from water, these dispensers do not remove chlorine, VOCs (volatile organic compounds) and heavy metals.
What is a Water Filter System?
As the name suggests, a water filter system removes harmful contaminants and chemical additives such as chlorine and fluoride from your drinking water using one of many types of water filtration methods. They can also attach to your kitchen tap for an unlimited source of fresh, clean water.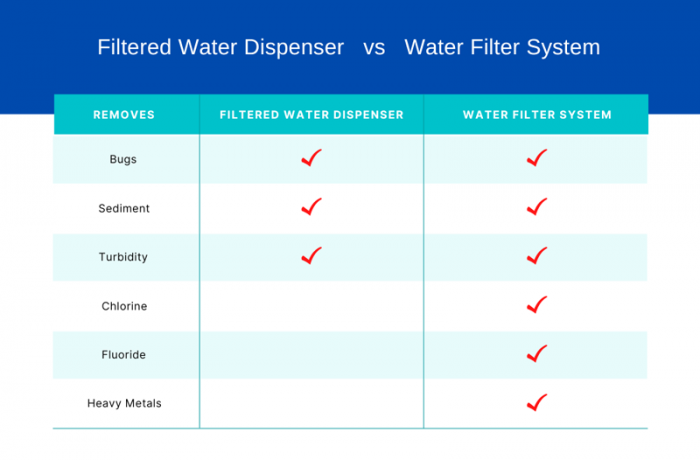 Which is the best option for you?
Put simply, the main difference between a filtered water dispenser and a water filtered system is the level of protection the two provide. A water filter system is designed to remove heavy metals and contaminants, offering a higher level of defence. You can also take advantage of technology like Reverse Osmosis which we discuss in one of our recent blogs here: What is Reverse Osmosis?
ALSO READ: Filtered Water vs Bottled Water
Eliminate contaminants in your water with a water filter system.
Clean water, better life. Get a water filter system for a healthier lifestyle, a greener planet and a fatter wallet. Contact us at Aquafresh for installation in Brisbane, Gold Coast, and Sunshine Coast. Call us on (07) 3355 1591 or send us your enquiries.