Do you need a replacement water filter cartridge? Aquafresh explains why regularly replacing your water filter is so important.  
Regardless of what type of water filtration system you have, installing replacement water filter cartridges is a vital step in keeping your water safe and clean. To understand when and why you should replace your cartridges, keep reading.
How often should you replace your water filter?
Cartridges should be replaced generally every 6 to 12 months depending on the water filtration system. While sediment and carbon filters last around 6 months, inline and reverse osmosis filters can last 12 months. If you're uncertain about the age and status of your filter, book a service with our water filtration professionals.
How do you know if your water filter needs replacing?
Signs that you need a replacement water filter cartridge include:
Water has a bad taste or smell.
Water pressure drops over time.
Dirt and particulates appear in your water.
The filter is older than 6 months.
If you experience any of these, inspect your water filter and replace it if necessary.
What will happen if you don't replace your water filter?
As previously mentioned, an old water filter will make your water taste and smell bad, lower your water pressure, and fail to remove debris. While these alone should be good enough reasons to replace your filter, there are also health risks posed by expired water filter cartridges. Not only do dirty filters do a poor job removing bacteria, but they can serve as a breeding ground for it. If you're concerned about the health of your family or employees, you should regularly install replacement water filter cartridges.
Protect yourself and others with clean water. Contact us at Aquafresh.
Keep your water chemical and bacteria-free with quality cartridges and services. Contact us today for filtration solutions in Brisbane, Sunshine Coast, and Gold Coast. Call us on (07) 3355 1591 or send us your enquiries.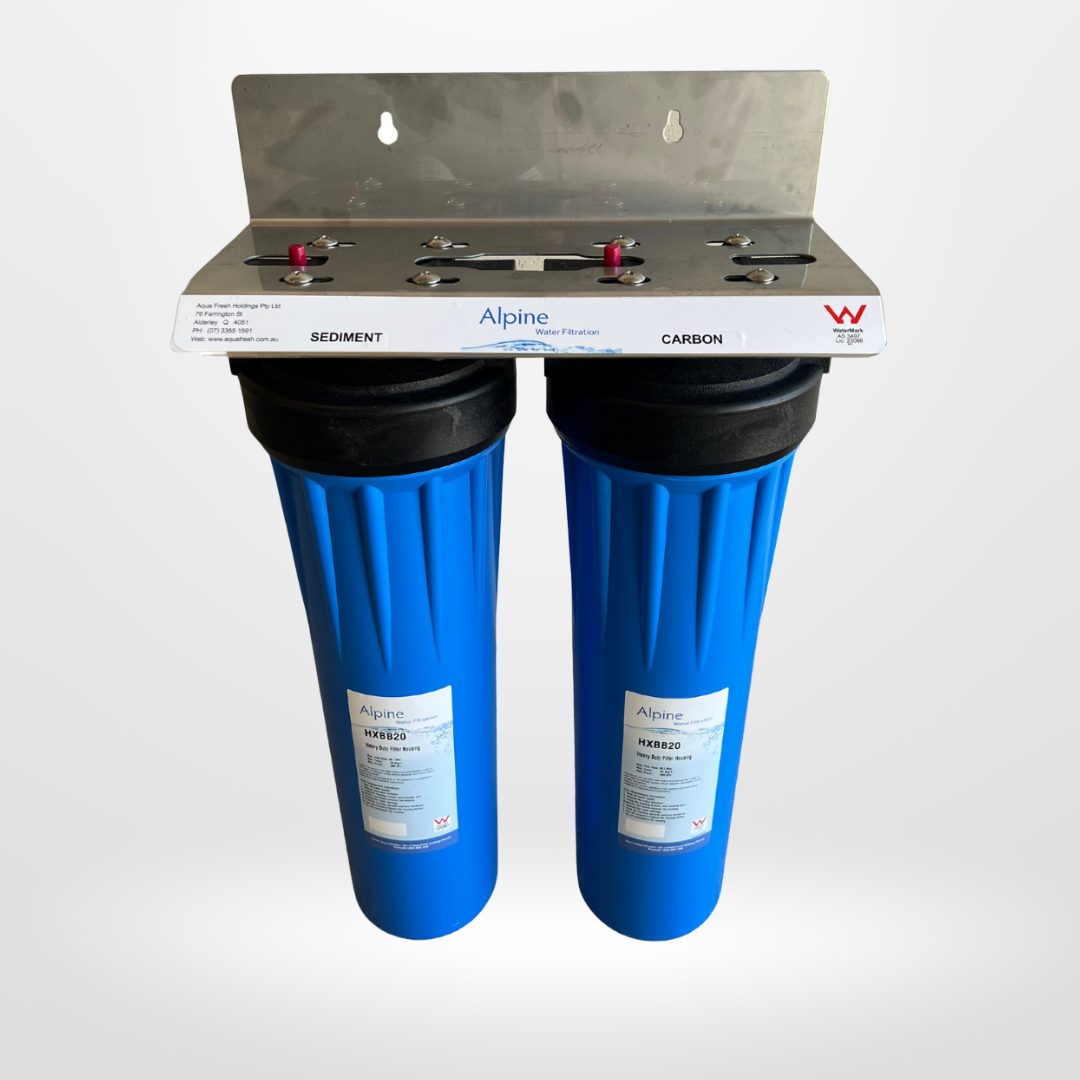 The Alpine 20″ Twin Jumbo Whole House Water Filter System is perfectly designed for handling the unique water needs of Australian households, providing the highest quality water for your family and eliminating the need for any other filters in the home. The whole house water filter system can be used to remove chlorine, bad taste, heavy metals, pesticides and odours. Have peace of mind knowing you will have safe and clean water for showering, cooking, and washing your dishes and clothes.
Check this product in our online shop.
Purchase a Whole House Water Filter System Today
From sediment removal to eliminating harmful contaminants, whole house water filter systems provide the gift of healthy hydration and peace of mind. For expert advice and support, please don't hesitate to call us at Aqua Fresh on (07) 3355 1591, or send us your enquiries.